HARVEST FESTIVAL AT ST AIDAN'S 2021: A beautiful Harvest festival was celebrated at St Aidan's 11am Mass on Sunday 3rd October. Show More...It was a real joy to share together such an uplifting day of prayer, song and friendship. There was a wealth of autumn colour with flowers, fresh fruit and vegetables and even some 'visitors' from a local farm! Mass was followed by a delicious freshly cooked Harvest Lunch presented by four of our wonderful ladies who had worked tirelessly to give us all a special day to remember. This was our first social occasion since the beginning of covid and raised so many spirits. We pray now that, God willing, it will be the first of many. ~text and images courtesy of Janet Cook....Show Less
Individual Images can be viewed in the Parish Photo Albums section on the NEWS & EVENTS page of the Parish Website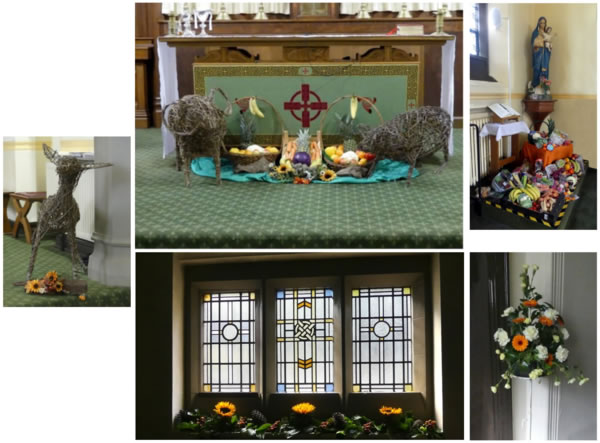 OCTOBER IS THE MONTH OF THE ROSARY: How to pray the Rosary with Father Matthew Cashmore.

THE SYNODAL PROCESS For those interested in finding out more about this process, a good starting point is to read ONE Diocese. Fr Martin's introductory paper published on the DIOCESE OF LEEDS website:
From Parish to Mission
FACEMASK POLICY AT MASS in compliance with Fr Keiron's request that we maintain anti-Covid measures, please continue to wear masks when attending Mass. This helps people who may be more vulnerable to Covid-19 or to its effects to continue to feel confident about their safety while attending Mass. If you don't have one, ask a steward and one will be provided.
MOVED OLDER ENTRIES see In Other News